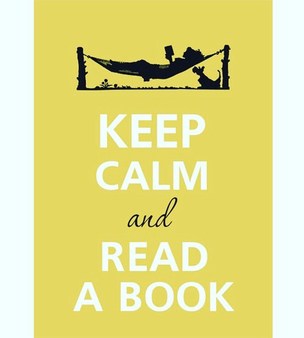 Latest News July 2017
July promises to be a busy month for me. Not only is my garden in full bloom and demanding some TLC, but I have two book signings coming up. The first on July 2, (12-3 pm) north of Calgary at the Chapters in Cross Iron Mills, and the second on July 15 (1-3 pm) at the Sunridge Chapters in NE Calgary. These aren't solo appearances, several other Books We Love authors involved in the
Canadian Historical Brides Series
will be there as well - Nancy Bell, Victoria Chatham and Judith Pittman. Come on out and say hello!
Live in the Calgary area and interested in writing romance? Check out the website for the Calgary Association of Romance Writers of America (
CaRWA)
and join us for informational and fun meetings with fellow romance authors! Do stop by the Highland Park Community Association,
3716 2 Street NW Calgary, Alberta on
July 18 for a brisk session of speed pitching!
---


I'll be joining the Canadian Historical Brides blog with a monthly post. Click on the picture to join in on the fun!


---


Click on the cover to connect to the Books We Love blog. A different BWL author is featured every day so there's always something new to discover and learn. Your comments are always appreciated, hope to see you there.


Out and About

That's me this past April with the lovely

Eve Silver

, whose passion and enthusiasm for the publishing industry is truly awe inspiring. Plus she's a really nice lady!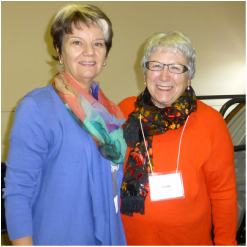 In October 2016 I attended a terrific workshop with Calgary author
Adam Dreece
. Here I am with my dear critique buddy Victoria Chatham. Aren't we a colorful pair!
---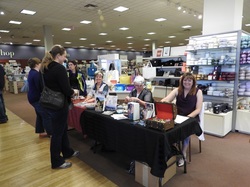 My very first book signing, June, 2016. That's me on the left with buddies

Victoria Chatham

and
Michelle Beattie
. It was great to see so many friends and family members turn out.
---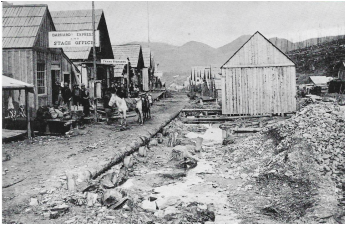 Book Excerpt - Barkerville Beginnings

This is my working copy so still includes my notes to myself. :) The picture to the right is an actual photo of Barkerville's main street in 1865. The miners built the town right on top of Williams Creek.


Chapter One

1867

NEED A KILLER FIRST LINE With her shawl clutched in one hand, and her skirts in the other, Rose bounced up the stairs leading to Mrs. Beadle's Rooming House, the finest one in Victoria. Her high top buttoned boots clicked on the wooden porch, the door hinges squealed as she swung it open and the fragrance of stewing beef enveloped her as she stepped inside. At the pleasant aroma, her stomach growled, reminding her breakfast had been long ago.
Mrs. Beadle popped out of the kitchen at the end of the hall and waved at her. She waddled her considerable bulk down the hallway, floor boards groaning in protest. "I thought I heard you come in." She pointed towards the front drawing room. "There's a gentleman here to see you."

"For me?" Puzzled, she stepped down the hallway until she could see into the room. Her heart sank as soon as she saw the tall man gazing out the window at the bustling street beyond. She'd recognize him anywhere: slicked back blonde hair, neatly trimmed mutton chop whiskers, and twirling his signature beaver top hat in his hand.
"He's no gentleman," she muttered to the other woman eyeing her with an inquisitive gleam in her eye although the corners of her generous mouth curled up in an affable grin.

"He says he knows you."

Rose shrugged. "A long time ago."

"He says he has an offer for you."

"An offer?" I bet he does, Rose thought grimly.

The man turned as she walked into the drawing room. "What do you want," she blurted before he had a chance to say anything.

"What, no hello, no how nice to see you?"

He chuckled, a harsh sound that grated on her ears. Strange to think that once she thought that the most melodic sound in the world.

snorted. "Because you're the last person I want to see."

"We'll have it your way then and forego the niceties." He smoothed his whiskers with one well manicured hand, swiping first one side of his face then the other. "I have a proposal for you." His black eyes gleamed as he swept his gaze over her, setting her cheeks to burning.

She laughed, a grim little bark that startled the fat orange tabby cat drowsing in the puddle of sun on the top of the settee. Although the floral pattern was faded, the wood arms and legs gleamed with polish. Despite her vast girth, Mrs. Beadle was a fine housekeeper. Rose had considered herself lucky to find a room here.
Until now. Until Mr. Edmund Hewett found her.

"I'm not interested," she said curtly.

"You haven't heard me out."

"Because anything you have to say is of no interest to me."

"I want what's mine."

Fear chilled her but she pulled her shoulders back and stood up as tall as her 5"1" – in her heels - would let her. "I have no idea as to what you're referring to."

"Ah, but you do. I want what's mine and I'm prepared to pay you for it."

She pointed towards the door. "Please go."

"I'll pay you but if not - ." His eyes narrowed and his mouth compressed. Any pleasantness he may have feigned disappeared. He pulled out a lock of hair, a single golden curl tied with a dirty piece of string. "-if not, I'll simply take what I want. And I'll see to it that not only will you face financial ruin, I'll let slip about your questionable morals."

Her heart plummeted, a wave of nausea rendered her speechless. Her mouth worked but no sound came out.

He chuckled again. "I see you understand me."

A bluff was her best chance. She couldn't let him see how he'd rocked her very world to its foundations. "So it's a lock of hair. That's nothing. Again, please leave. I'm not interested in your proposition. Or your money."

"Not just any lock of hair." He held it out and shook it so the little curl bounced. "But I understand you've suffered a shock with my unannounced visit. I'll leave now but I'll be back tomorrow afternoon for your answer." He tossed the lock of hair on the ground at her feet. "I won't be needing this anymore."

"Don't bother coming back. I'll not change my mind."

He bowed, more out of mockery than respect and sauntered out of the room. She clutched the back of the nearest chair for support, knees shaking so badly she thought she would collapse. It wasn't until the door slapped shut behind him that she let go and sank to her knees.

How had he found her? She'd been so careful, had changed her surname, had disappeared one night without telling anyone where she was going. How? Because he's a wealthy, wealthy man, that's how. He could afford to pay anyone to find her. Pinkerton's, presumably.

A clattering of feet sounded from the hallway and a small, blonde haired girl with startling blue eyes burst into the room. "Mama, Mama, Mrs. B. told me you were home."

"Here I am, poppet, did you miss me?" Rose straightened the slightly askew eyelet apron on the little girl and tugged on her petticoat so that white lace edge peeped out properly beneath her pink cotton skirt.

Her daughter nodded.

"Were you a good girl?"

"I'm always a good girl!"

Rose pulled her close for a moment and closed her eyes to inhale the little girl scent. Sweet and innocent. Unaware of the Mr. Hewetts in the world.

She rocked back on her heels and twirled the braided gold band on her left hand then with shaking fingers reached for the lock of hair on the floor. Perhaps it wasn't...She held it against Hannah's head. Of course it was.
Edmund had made clear his intent to claim Hannah. The daughter he had never acknowledged as his.

Rose would not, could not let that happen. Hannah was the most precious thing in the world to her. She would not lose her. He said he was coming back tomorrow for her answer.

That gave her less than twenty four hours for her and Hannah to make good their escape.

***

Viscount Harrison St. John ran his finger beneath the collar of his freshly laundered shirt. The maid who had washed it had used too much starch and it rubbed against his neck, making him even more uncomfortable on what already promised to be an uncomfortable day. His wedding day. A day that should be joyous so why did he feel as if he faced the gallows? Because, he reminded himself grimly, this ceremony was no more than a business transaction.

The snick of a latch interrupted his morose thoughts and he turned to look as a door swung open, revealing a glimpse of the verdant English countryside before Lord Frederick Worthington stepped through, pulling it shut behind him. "She's running a bit late," he said.

Harrison inspected his best man, attired much like himself in a black wool double breasted suit, crisp white shirt and wine red silk tie. His trousers tapered fashionably at his calves and his black boots shone with all the spit and polish his valet could muster. Unlike Harrison, Frederick always looked as if he could step into Almack's or London's Royal Opera House at a moment's notice. Mind you, the fact he possessed a dashing air might also have something to do with it.

An air Harrison knew he could never match. He'd spent a small fortune on his suit, all in the name of "keeping up appearances" but knew his shoulders did not fill out the jacket quite as nicely as did Frederick's, knew the fresh polish he'd applied this morning couldn't really hide the scuff marks and worn down heels of his own boots.

"What?" Harrison pulled out the pocket watch from his vest. "A minute or two. You know how Miss Nancy likes to make an appearance."

Frederick cocked an eye brow; his blue eyes twinkled. "I suppose you're right. Especially on her wedding day when she knows all eyes are on her. Just as she likes." He winked.

"She'll be here." Harrison swung his pocket watch back and forth. The chain glittered as it arced back and forth in the sunlight streaming through the stained glass windows of St. Barrnabus' Anglican Church, the ancestral church of his family and the scene of countless weddings, funerals and christenings over the years.

Frederick peered around the edge of the transept. "The pews are full. This is quite an event for the locals."

"Ah, yes, the old and venerable St. John family has finally found a solution to its troubles." Harrison didn't bother to hide the sarcasm in his voice.

"Cheer up. You'll scare her if she sees the look on your face." His friend clapped him on the back.

Minutes ticked by. The church began to buzz with conversation. Harrison again pulled out his watch. Fifteen minutes late. Surely Nancy would sweep through the door any second now. Then they could get on with the ceremony and by the end of the day, he would have a wife and the sizeable dowry she brought. The dowry which would save the St. John estate. In the bargain, her industrialist family, in textiles as were most wealthy merchants in Manchester, would acquire the social status they so desperately craved. Simply put, an arrangement suiting all parties involved.

He glanced over at Frederick. His best man frowned and shrugged. Now what? he mouthed. Harrison shook his head. Foreboding tickled his insides. The interior of the church darkened suddenly as clouds covered the sun.
The notes of the organ swelled to drown out the sound of voices. However, it couldn't drown out the titters. Or the guffaws. The organist played on, several hymns followed by a fugue by Bach. He gritted his teeth. He hated Bach, found the music much too dour. It didn't seem right, to be listening to music he didn't even like on his wedding day.

Where in blazes was Nancy?

Yet again, Harrison pulled out his watch. Forty five minutes late. He jammed it back into its niche in his vest, not even caring that the chain had gotten tangled up and didn't hang properly across his chest. Where was she? Then the awful truth hit him like a runaway carriage.

She'd jilted him. Left him literally standing at the altar with half of Lancashire as witness.

A door opened behind him and the vicar emerged from the vestry. He plodded towards them, cassock flapping at his feet, sympathy shining from his rheumy blue eyes. He shook his head sadly. "I'm most terribly sorry. I've just received word she's not coming." He held out a thick cream coloured envelope. "For you."

"I see." Harrison grabbed the envelope, his name scrawled across it in Nancy's handwriting. He didn't have to read it to know what it said – her absence said it all. He folded the envelope in half and jammed it into his jacket pocket then rubbed his hands over his face. A great weight pressed down on his chest, making it difficult for him to breathe.

"Deuced uncomfortable situation." Frederick's concerned voice penetrated the roaring in his ears.

Harrison looked up. "How could she?" he whispered.

His friend shook his head and lifted his shoulders. "Women. Who can understand them."

The quip fell flat but Harrison appreciated it nonetheless – it injected a hint of normality into this hideous moment. "Yes. Who can understand them," he echoed. His lips twisted in what was meant to be a grin but most certainly came out a grimace.

"You gentlemen are welcome to stay as long as you wish." The vicar patted Harrison's shoulder. "In time this will be forgotten." He shuffled off.

Forgotten? Seriously? Harrison watched the vestry door close behind the vicar.

"A stiff drink is what you need," said Frederick.

Harrison shook his head. He doubted he could force anything past the knot in his gut. "What I need is to get out of here."

Frederick nodded. "Of course. I'll finish up here."

"No. This is my tangle." Harrison turned and stepped out of the transept, moving to face the nave. "I must apologize. There will be no wedding."

His gaze skimmed the front pew, over the horrified faces of his parents, the shocked visage of his sister, the dismay on the faces of his intended's parents. Even they, apparently, had not been privy to Nancy's betrayal. He shrugged then walked down the aisle, past the knowing smiles of the few people still remaining in the pews until he stepped out of the church into the drizzling English spring. He noticed nothing, merely moved out from the shelter of the doorway and thumped down the stairs.

He strode down the stone path, scowling at the cheerful jonquils that lined it and turned into the road. The drizzle dampened his coat until moisture seeped through his shoulders. It should have been uncomfortable but he didn't feel the wet, didn't feel the chill because a slow burning anger gnawed at him.

Jilted. Rejected. Made a laughingstock. All in the name of "saving the St. John legacy." Moisture pooled in his eyes and he shook his head to clear them of what most certainly was rain. He blinked a few times, straightened his shoulders and marched on down the road.

He didn't look back.








---