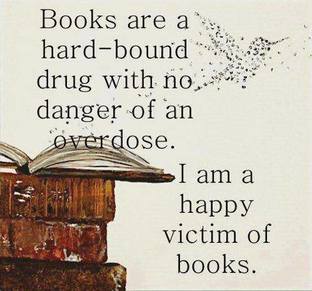 Latest News April 2018
Is it spring where you are? Because as I gaze out my office window, I still see snow and grey skies. Ugh! The older I get, the less I like cold weather and I definitely can see the appeal of becoming a snowbird. But I console myself with the thought that gardening season is just around the corner and it will be time to get outside again. In the meantime, I'm working on a couple of projects, another Viking romance, Freed By Love, set in Vinland (L'Anse aux Meadows, see excerpt below) and another Regency, Her Seaswept Scoundrel.
Are you interested in writing romance? Check out the Calgary Association of the Romance Writers of America (
CaRWA
) website. Our next function is 7:00 pm, April 17 at the Highland Park Community Centre with
Performance Poet Mel Vee
. What an intriguing guest and I look forward to hearing what she has to say.
Love
Kristan Higgins
? She's the featured speaker for CaRWA's May 5 workshop. For information on how to register, go to the CaRWA website (link above).
---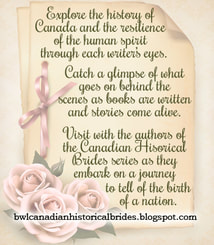 I'm posting on the the Canadian Historical Brides blog on the 25th of every month. Click on the picture to join in on the fun!

---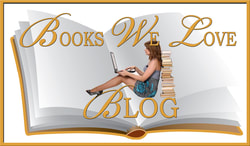 Click on the cover to connect to the Books We Love blog. A different BWL author is featured every day so there's always something new to discover and learn. Your comments are always appreciated, hope to see you there.


---
Out and About

That's me this past April with the lovely

Eve Silver

, whose passion and enthusiasm for the publishing industry is truly awe inspiring. Plus she's a really nice lady!

---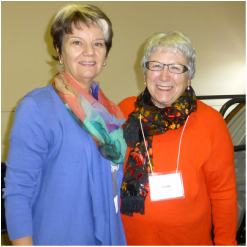 In October 2016 I attended a terrific workshop with Calgary author
Adam Dreece
. Here I am with my dear critique buddy Victoria Chatham. Aren't we a colorful pair!
---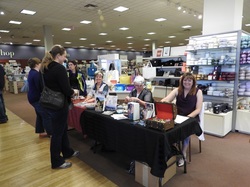 My very first book signing, June, 2016. That's me on the left with buddies

Victoria Chatham

and
Michelle Beattie
. It was great to see so many friends and family members turn out.
---
---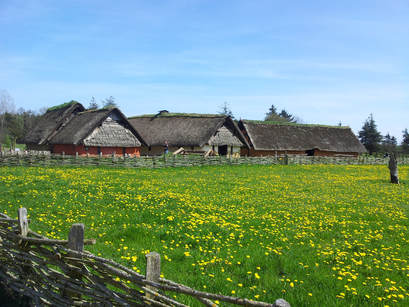 The Viking settlement at L'Anse aux Meadows doesn't quite look like this one but it gives you an idea of the style. This picture is from the living Viking museum in Ribe, Denmark.


Excerpt - Freed By Love

Chapter One

1000 A.D.

Maria surveyed the cramped deck of the knorr "Sea Warrior" then swept her gaze to the seething grey waves of the north Atlantic. Water stretched as far as the eye could see. "Father, have we made a mistake?" She turned to look at the stout, sandy haired man sitting beside her.
Her father, Herlu shook his head and patted her shoulder. His gentle brown eyes were serious. "There's naught for us in Greenland. Thorfinn has listened to Leif and knows where we're going. As long as we follow him, we are safe."
Ahead of them, another knorr crested a wave, its curved bow stem suspended for a moment in midair before plunging down to disappear between swells.
And ahead of that boat, so far in the distance it looked like an insignificant piece of driftwood, the first ship. The one carrying their leader, Thorfinn Karlsefni and his wife Gudrid.
The square woolen sail of the "Sea Warrior" snapped overhead, a goat bleated piteously. The man handling the tiller grunted and then their own knorr descended the foam flecked waves. Down, down, down, until it seemed to Maria as if the stout vessel and all it carried would slip beneath the surly surface of the north Atlantic Ocean. She clutched the crossbeam she sat beside to steady herself against the expected wallop as ship hit water.
But no, up rose the squat vessel, majestic, fighting the sea with bow stem proudly meeting the sky.
Safe?" she muttered. "We were safe in Greenland. What use to find a new life in Vinland if we perish on the way?"
Her father pretended not to hear. Instead, he pointed ahead to where the sun broke through the dull pewter clouds. "The weather breaks. All shall be well."
"You place great faith in this ship." She knew she sounded peevish but fear prodded her natural reticence.
"Because we must."
Maria clamped her lips together to stop her unruly tongue. She had no desire to upset her father, indeed, any of the others sitting within earshot. She could only manage a weak nod but one thought stuck in her mind: What had they agreed to?
***
Geir didn't feel safe until the coast of Norway disappeared beyond the horizon He risked a quick glance backward and when all he saw was water, faced forward resolutely and put his back into the oar. Each powerful swoop of the blade put him that much farther away from pursuit.
He only stopped when the screech of pain from his hands was too powerful to ignore. He pulled his hands from the oar to inspect the blisters on his palms. With a grimace, he grabbed the oar in front of him and continued rowing. Aye, he was used to physical labor but working a plow and swinging an axe were not the same as manning an oar.
Out of the corner of his eye, he spied the captain of this knorr – Bram, an unscrupulous merchant who needed deck hands more than he needed to ask questions of a vagrant man seeking work. A captain who didn't want to know why Geir would wear a heavy woolen cowl around his neck on a warm spring day. Or why he didn't have a sea trunk. And, seeing the merchant hadn't asked, Geir didn't offer a reason.
No one knew the cowl hid an iron slave collar. Therefore it would only stand to reason a slave would not own a sea trunk for the simple reason a slave had no possessions.
Geir also did not offer an explanation as to why a slave would make his way alone. The answer? He had escaped from the farmstead that had been his home until he could stand it no more. Then it had been easy–he simply walked away, making his way to the harbor and from there on to this knorr. Where they were going, he had no idea. It didn't matter.
The only thing that mattered was his freedom.

Chapter Two

Maria poked her head out of the door of the sodded longhouse. She inhaled deeply, relishing the cool fresh air filling her lungs. Although newly built, the interior air was smoky and stagnant. The smoke hole didn't work properly and her father had been dispatched to fix the problem.
She stepped outside and put her fists on her buttocks then arched backwards to stretch her spine. The thin and lumpy straw mattress she slept on was uncomfortable to say the least. But at least she had a roof over her head.
As always the richness of Vinland's scenery took away her breath. A verdant meadow surrounded the settlement and beyond that, thick boreal forest. A stream meandered past the long houses, its crisp, clear water home to an abundance of fish. And today, glittering ice bergs dotted the brilliant blue ocean beyond their little bay. For an instant she let the beauty of the land fill her with pleasure before returning to the matter at hand.
"Father?" She called out and cocked her head to listen for an answering shout. Nothing. She shook her head. Had he even gone on the roof or had he gone instead to the furnace hut?
"Aye?" He answered and she sagged with relief. The last thing they needed were more accusations about him not pulling his weight around the settlement.
"You've been gone for awhile," she answered. "I didn't know where you were."
"Looking at the smoke hole like Thorfinn told me to. The shutter was jammed but I opened it." He appeared around the corner of the building, swinging a hammer.
Maria looked on him with sorrow. What the others didn't know is that, since coming here a year ago demons seemed to have taken over her father. He forgot often and tiny things angered him. She'd seen glimpses of it before they left Greenland but at the time thought grief over her mother's accidental death had addled him. She'd thought a new start for both of them would clear the memories. Instead, he grew worse and quite often, confusion muddled his usual gentle brown eyes. Thankfully, today, they were clear.
He continued to speak. "I know the others feel I've spent too much time readying the smithy. Perhaps they'll leave me be for now." He tucked the hammer into his belt.
"Perhaps," Maria echoed. "In fairness, winter was long and hard and the others could not see the value of building a smelter when we needed firewood to heat our homes and food to fill our stomachs."
Herlu glared at her. "The forest here is thick. How much wood needs to be chopped and stacked when any time you have only but take a few steps to find what you seek." He clamped his mouth shut but his lips worked furiously to suppress his anger.
Maria shrugged and made her voice calm. "As you say."
"I'm a blacksmith and that's why I was asked to come along. I'm much better working in the smithy," he said proudly. "If you need me, that's where I'll be." He ambled off and Maria knew he headed for the hut containing the newly constructed furnace.
"What did he find?" Gudrid moved to stand beside her. Together, they watched her father until he ducked into the smithy and disappeared from sight.
"The shutter was jammed but he freed it. The smoke hole should work now."
"He's handy when he puts his mind to it. But sometimes-." Gudrid shook her head.
"He forgets." Maria knew it sounded as if she made excuses but she loved her father and didn't want him treated unkindly.
"He's happiest with his new furnace and digging for bog iron. As he should be, I suppose."
But often he sits and does nothing but sleep, thought Maria. She'd dug her fair share of bog iron in hopes of covering for his lack of output. Shouts interrupted her thoughts and she forgot her worries for Herlu.
"Look", exclaimed Gudrid. "A longship approaches!"
People surged toward the shoreline, shouting and squealing with laughter. At long last, the first ship from Greenland had found them.
A baby's fretful whimper sounded from within. "Snorri is awake." Gudrid looked down at the two wet patches on her bosom. "Just as well."
"You'll not meet the ship?"
"Later. They'll be here for awhile. There's no rush." She turned and padded inside but Maria could still hear her murmurs. "Your mother comes, hush..."
Maria swallowed against the lump in her throat. Motherhood was not likely to be her lot. Even here at the far reaches of the world where the men vastly outnumbered the women, it would be difficult for her to attract a husband. She wasn't fair of face and had no skill in weaving or other womanly pursuits. She helped with the cooking because Gudrid asked her to but more often than not, the meat would scorch over the fire or the porridge would burn in the pot.
Caring for her father was the only thing she did well. And had done since the day she stood tall enough to work the bellows and help him in the smithy, much to the chagrin of her mother. Her iron work equalled his so when the time came, she would ensure it was done properly so none here in Straumsfjord would discover his decline.
She straightened her shoulders. Protecting her father left her no room for a husband anyway, she told herself.
***
Geir dropped the oar and flexed his shoulders gingerly. After weeks of travel, it would be good to step on solid land. His hands had toughened to the task, thanks to the balm provided by one of his fellow sailors but his back ached and the iron collar scraped his neck if he wasn't careful.
He looked around to inspect the little settlement at the end of the bay. Three longhouses hunkered into the grassy meadow surrounded by a smattering of huts. A craggy stone ridge and a rounded knoll hinted at shelter and in the distance, the dark edge of a thick forest. Smoke wafted from those three roofs so he knew someone or many someones prepared food. He stretched his arms overhead and sucked in a lungful of air before letting loose a smile. A night inside under a solid roof and close to a fire would be welcome. True, their journey here had not been intolerable but constant exposure to the elements tired a man.
A rag tag bunch greeted them, almost all men but for one woman picking her way among the rocks scattered on the beach. She slipped and, arms flailing, caught her balance before she fell. Covertly she glanced around, obviously hoping no one had noticed her misstep and when no one had, lifted her head and continued her way towards the water's edge although a wry smile played on the corners of her mouth. Geir grinned in understanding – hadn't everyone been caught out in an embarrassing situation at one time or another?
He didn't pay her any more notice, looked instead for the tell tale leather apron of a blacksmith. Having the iron collar removed would be his first order of business. How he would explain its presence, he had no idea. He could only hope here far away from Norway, no one would spurn a runaway slave.
"Welcome!" The first settler reached the water's edge and splashed towards the longship, ignoring the waves lapping at his thighs. "What news do you bring of Greenland?"
Two more men strode into the little bay to wade towards the longship gently drifting towards shore.
"Aye, what news?"
"How was your journey?"
"By the gods, let us pull into shore before you batter us with questions." The captain's curt voice didn't dampen the enthusiasm of the trio. They grabbed the oar extended to them by one of the sailors on the ship and began to drag the boat until it grated on the bottom.
"Ho, you fancy yourself strongmen, do you?" A tall, well built man stood at the water's edge, grinning. The rest of the crowd, numbering perhaps another ten, laughed. The tall man spoke again. "Welcome. I am Thorfinn."
Spirits were high, thought Geir. Life here in Vinland must be good. Perhaps he could find someone to take his place on board the merchant's ship and he could stay here a free man. Without his collar.
Soon the longhip was pulled up on the beach. The newly arrived sailors milled about on the beach; two even broke out into good natured scuffling.
"Enough!" barked the captain. "Empty the ship. She's not pulled up high enough out of the reach of the waves. The last thing we want is her floating away without us in it."
Everyone including Geir jumped to do the captain's bidding and within a short time, the empty ship perched on rollers above the line of high tide. The men stood awaiting further orders and when none came forth, began talking to the settlers. Shouts of laughter interspersed the babble of voices. The settler's palpable excitement at the arrival of the longship brought another smile to Geir's lips and he responded in kind when one of the settlers clapped him on the back.
"I am Geir." He held out his arm. "We should have come sooner if we'd known we'd have such a fine greeting."
"Nikolas." The man clasped his arm up to Geir's elbow. "As you can see, we are starved for news and welcome a diversion from the every day. What brings you?" The man's blue eyes sparkled beneath an unruly thatch of black hair. His smile poked through a huge black beard.
"We are a merchant ship and have heard tales of the lumber and furs to be found here."
"Aye, look for yourself." Nikolas opened his arms. "The forest is rich here but there is so much more land to explore. Does your captain know this?"
"I don't know." Geir shook his head. "But don't bother the captain. He's a sour man who only sports a foul mood."
"At least it's not your wife who sports a foul mood." Nikolas laughed.
"Nay. I have no wife and have no wish for one." Not ever, thought Geir. He was not about to exchange his new found freedom for slavery of a different kind. No woman would rule his life like the shrewish wife of his old master had ruled that man.
"Well, you won't find one here. Women are sorely lacking and those we have are already married. Except for one. But-" he shrugged. "She is bound to her father."
"Even if I wasn't," interrupted a husky female voice, "I wouldn't be interested in you, Nikolas." A large boned woman moved up to stand beside them.
Geir inspected her. It was the woman he had seen making her way to the beach. Although others might consider her round face with its snub nose plain, he admired the intelligence shining from her brown eyes and the good health shining from her beautiful sable colored hair. A few wisps curled free from her thick braid and framed her tanned cheeks. A sprinkling of freckles dusted her nose and her rolled up sleeves exposed well muscled forearms. Did she spend a lot of time outside, he wondered, and what did she do that gave her arms like that?
"This would be the one of whom I speak." Nikolas winked. "A sturdy companion with none of the tiresome airs that haunt some women.
The young woman winced. "If you hope to charm me, you must use prettier words."
"If I knew the words that would charm you, I would say them." Suddenly serious, Nikolas gazed at her. A shadow fell across her face at his intent look; confusion filled her eyes.
She is uncomfortable with a man's admiration, thought Geir, as a flush colored her face. She pressed her fingers against her cheeks as if to hide the tell tale signs of embarrassment and closed her eyes for a brief instant. When she opened them, sorrow mixed with self loathing made them almost black. Her bottom lip trembled as if she fought back tears.
Compassion surged through Geir's chest. He full well knew the sting of self disgust.
"I must go," she blurted and she turned away to move down the beach at a brisk pace away from the settlement.
"Did we upset her?" Geir watched her graceful stride and the proud way she carried her head as if to say, I don't care what others think of me.
"She's prickly, that one," said Nikolas. "She refuses anyone who shows an interest in her." Yet Geir noted how the other man's eyes followed her form as she walked away. Nikolas' earlier words were not spoken in jest – he truly desired the young woman.
Thorfinn began to speak then, and Geir forgot about her as he turned to listen.
"Welcome to Vinland. We have many riches here and Straumsfjord gives us the perfect base from which to explore. The waters teem with fish, wildlife fills the forests and oh, what magnificent forests they are. This is a rich new world the likes of which cannot be equalled back in Scandinavia."
Cheers erupted, sprinkled with applause.
Thorfinn held up his hand and when the crowd silenced, he spoke once more. "Let us feast this very day and give thanks to Leif Eiriksson who sends us here in his name to people this new land! Oh, such wealth we will find, wealth we will share with our brothers back in Greenland!"
Wealth, Geir thought, self made wealth. No longer would he bow to another man but only to his own wishes. He had no desire to return to Norway to face certain punishment for his audacious escape.
If Thorfinn spoke true, Geir would have no need to.







---