Find my ebooks at your favorite online retailer here!

---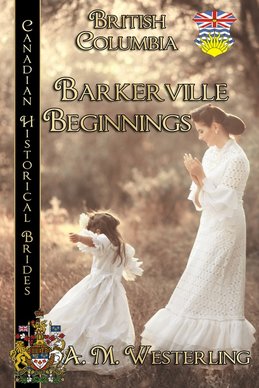 This book is part of the Canadian Historical Brides Series being published by Books We Love in honor of Canada's 150th Birthday. #Canada150
Faced with financial ruin and the loss of her good name, Rose Chadwick decides to make a new start for herself and her young daughter Hannah in the rough and tumble gold rush town of Barkerville, British Columbia. However, making a new life is not so easy when it's built on lies. And, long suppressed emotions within her are stirred when she meets a handsome young Englishman.
Viscount Harrison St. John knows he's expected to marry well to bolster his family fortunes. Instead, he leaves England to pursue riches in the gold fields of a frontier town in the far off wilds of Canada. Soured on love because of a betrayal by his former fiancé, Harrison resists the attraction he has for Rose. Particularly considering she appears to be a happily married woman with a daughter of her own.
Will dark secrets from Rose's past keep them apart? Or will they find love, happiness and a new life together in the bustling town of Barkerville?
Ebook available
AMAZON.COM
AMAZON.CA
SMASHWORDS
CHAPTERS.INDIGO - KOBO
NOOK
iBOOKS
Print version now available
AMAZON
And wherever fine books are sold.
---
Banished from his homeland for a crime he didn't commit, Thorvald Stronghawk knows selling the Frisian beauty he's captured will bring him the blood money needed to regain his good name. When the man who accused Thorvald of the crime is the one buying Gisela, Thorvald must decide what he wants more: To recover his reputation among his fellow countrymen, or tame the woman who has vowed to hate him forever for destroying her home and family.

Gisela of Falkenstead realizes the handsome, self assured Viking views her as nothing more than chattel to be bought and sold rather than a woman with a life and mind of her own. Although her head tells her to escape the man she thinks is nothing more than a savage murderer, her heart has other ideas.

Will Gisela find a way to flee? Or will she find love and happiness in Thorvald's arms?


Find it here: AMAZON - KINDLE CHAPTERS.INDIGO -KOBO
SMASHWORDS NOOK iBOOKS

Print version now available wherever fine books are sold or online at

Amazon, Barnes and Noble,

and

Chapters.Indigo

.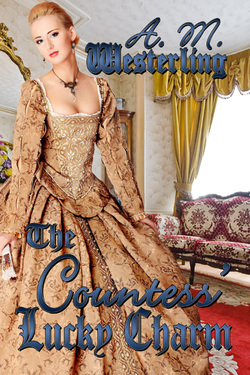 Saucy pickpocket Simone Dougherty relies on her nimble fingers and quick mind to work London's streets. However, using her wits to survive in the East End is one thing. Using her wits to pose as the wife of the attractive Lord Temple Wellington is another thing altogether. Especially when her rebellious heart refuses to listen to reason.
Restless and bored with the life he's carved out for himself, younger son and black sheep Temple Wellington determines to turn over a new leaf in the wilds of Canada. Somehow he never imagined embarking on a new life would involve marriage to a fetching thief with a penchant for trouble. A thief with mysteries of her own.
When Temple unexpectedly becomes the new Earl of Leavenby, will both his and Simone's dark pasts rise up to haunt them? Or are they strong enough together to fight for their happiness?
Find it here:
AMAZON - KINDLE
CHAPTERS.INDIGO - KOBO
SMASHWORDS
NOOK
iBOOKS
Print version now available wherever fine books are sold or online at
Amazon
and
Barnes and Noble
.
---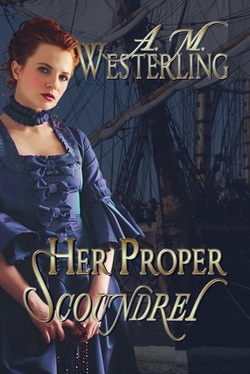 Threatened with an unwanted marriage, Lady Josceline Woodsby escapes London to take a position as a country governess. When she discovers the job is no longer available, Josceline vows she will do anything to avoid returning to her previously dismal life - even if it means coercing the ruthless Captain Sharrington into providing her with employment.
Spurned by a father he never knew and sent off to sea at a very young age, Christopher Sharrington leaves a promising naval career determined to make his own mark on society as owner of a shipping enterprise. The only problem is, hiring the alluring Lady Josceline as governess for children he doesn't even have, is definitely not part of his future plans.
Josceline soon realizes Christopher is under the mistaken impression her social connections will help him attain his dream. Will he cast her out when he determines she is more a hindrance than a help? And what of the devastating secret he harbors? Will it destroy any chance they have of building a future together?
Find it here:
AMAZON - KINDLE
CHAPTERS.INDIGO - KOBO
SMASHWORDS
NOOK
iBOOKS
Print version now available wherever fine books are sold or online at
Amazon
and
Barnes and Noble
.
---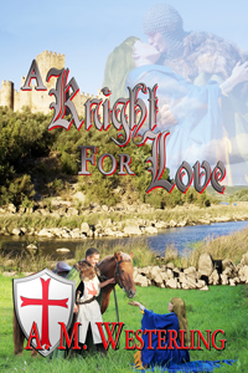 Haunted by memories of the 7th Crusade, Warin de Taillur vows to lay down his sword and embrace the monastic life. But first, rescuing an urchin abandoned by a French roadside will be the first step in his absolution. When he discovers the urchin is a young noble woman in need of protection, against his better judgment he agrees to return her home to England. Love for her soon overwhelms him but it's a love he must hold at bay for he has nothing to offer her.
Driven from her home, Caperun Keep, by a deceitful aunt, Alyna Caperun must place her trust in the brooding Crusader who rescues her. As the only means to recover her castle, she consents to marrying Warin even though she knows he could never love her for anything but her lands. Knows too, he battles demons not even she can fathom.
Will they find love? Or will Warin's past destroy any chance they have of finding happiness together?
Find it here:
AMAZON - KINDLE
CHAPTERS.INDIGO - KOBO
SMASHWORDS
NOOK
iBOOKS
Print version now available wherever fine books are sold or online at
Amazon
,
Barnes & Noble
, and
Chapters.Indigo
.
---

Other books available: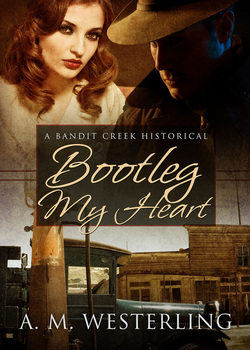 A Bandit Creek Sweet novella. This is Book 25 of the Bandit Creek Series but can be read on its own, or out of sequence.

Delia Becker returns to Bandit Creek in search of the man who killed her dad several years earlier. She reopens her late father's garage and hires the attractive stranger Jackson Durant to help her out. Only after she catches Jackson snooping around does she realize her new mechanic has a mysterious past.

Revenue man Jackson Durant arrives in Bandit Creek looking for the rum runners operating in the south east corner of Montana. Working undercover as a mechanic at Joe's Garage, he finds himself falling for the garage's owner, Delia Becker. The only problem is, all evidence points to her being part of the rum running gang he's after.

Will their growing love for each other overcome the secrets that are spilled late one night on Lost Lake road? Or will Delia's desire for revenge drive them apart?

Click on the cover to purchase the ebook at Amazon. Not yet available in print.

---